Instagram rolled out on 10 October 2019, a revamped layout for the Stories camera. Aside from the new improved layout, Create mode was added to give more creative options for the Stories feature. This is all in line with the success of Stories which had become the most popular feature of the platform. With the launched improvements, Instagram aims to boost further the popularity of Stories and provide more opportunities for social interaction and creative expression.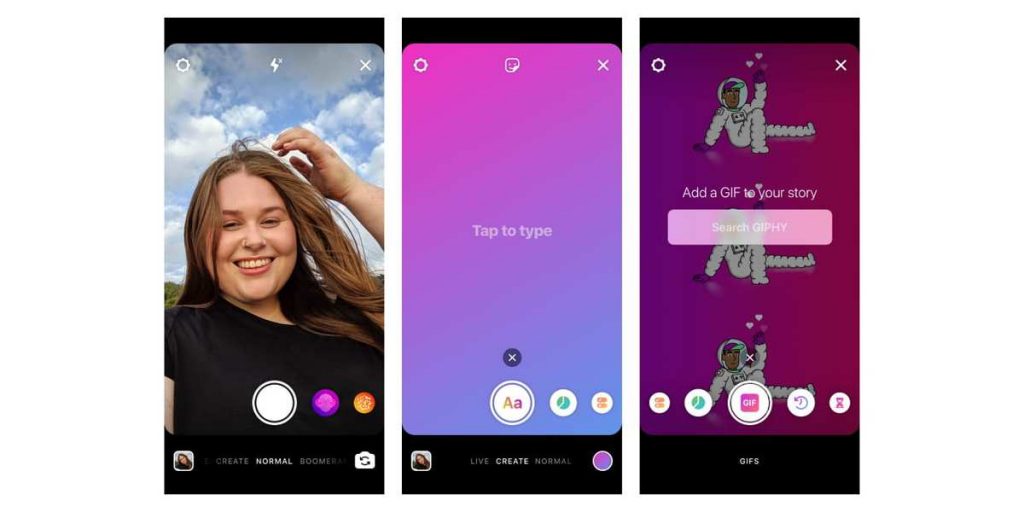 The Shutter button and the Mode options are still on the same locations but the other buttons are moved up and placed on top of the screen. The buttons change depending on the mode you choose. The revamp included the introduction of Create mode, which allows the user to create content without the hassle of looking for a perfect image. Instead of taking a photo or video, a combination of interactive stickers, drawings, and text can be used. Users are encouraged to readily share their creative thoughts without needing a photo or a video. To give users more room for creativity, several new features were also rolled out for the user using the Create mode:
Choosing an On This Day post, similar to Facebook, this allows the user to look at images they have posted in the past on the same date and use that image as the On This Day post. This is great for throwback content and to remember great memories from the past year.
Together with Giphy, another feature is the use of GIFs as the Stories background. The image will be arranged vertically as three tiles on the background.
Lastly are new Interactive Stickers, which encourages response from other users. The new sticker features are Question, Poll, Quiz, and Countdown stickers.
With the new layout and added features, Instagram is further evolving the Stories function and highlighting it as an important feature for the social media platform. As the feature becomes more interactive and easier to share our thoughts. Users of the platform can look forward to making more authentic and social connections.
Implications for Brand Marketers
Marketers who deal with KOL or influencers via Instagram should look forward to using the new updates as they present new avenues for interaction with fans and followers. The new feature also gives opportunities for community building as the features become more interactive and creative. Marketers may also look into how much value are the content that they can share with the new features as it may present a new opportunity for content marketing. Especially if the feature continues to evolve and become more interactive and real-time.
Overall, Instagram is investing in making more connections and providing opportunities for creativity. Marketers and businesses who use the platform should make sure to leverage these opportunities to create a clear and valuable message for their fans and followers.
Reference: